EUROPEAN ROLL-OUT OF

ANASTASIA
The newly developed musical Anastasia celebrated her first successes when it opened as a so-called out of town production in Hartford, USA. Anastasia passed the test brilliantly and plans started being made for a Broadway production. Later, Rijk Brouwer (one of our executive producers) flew in from Amsterdam to follow closely the New York rehearsals step by step.
'The Management Board of Stage Entertainment saw the potential of the show for various European markets. American audiences clearly loved the show and ticket sales were fantastic. That is why they asked me to go to New York and make myself familiar with every single production element. They wanted me to learn all about the production, thoroughly understand the budget and collect information that would be essential for a roll out on the Continent. And so it happened. I translated US budget elements to the cost equivalent that would apply in our Stage-markets. Light and sound rental and costume making for instance are less expensive in Germany or the Netherlands.'
Anastasia the musical is inspired by the Twentieth Century Fox animated film. It is a romantic, adventure-filled musical that takes audiences from the twilight of the Russian Empire to the euphoria of Paris in the 1920s, all set to a lush score from the Tony Award®-winning team of Stephen Flaherty (music) and Lynn Ahrens (lyrics) and with a book by also Tony Award winner Terrence McNally. Darko Tresnjak, a Tony Award winner for Best Direction of a Musical for A Gentleman's Guide to Love and Murder, helms the production. Anastasia features beloved songs from the 1997 film, including Ahrens and Flaherty's Oscar-nominated ´Journey to the Past´, as well as completely new songs from the Tony Award-winning team.
Coming from Broadway, Anastasia's first stop was in Madrid where the Spanish production opened on October 10th at the Teatro Coliseum. Five days earlier, still during previews, Rijk together with the creative team traveled to Stuttgart where rehearsals were about to start for the German production that opens on November 15th. Soon after, it was announced that in the Netherlands Anastasia would be the next show after the last performance of The Lion King in Scheveningen. Anastasia rolls on.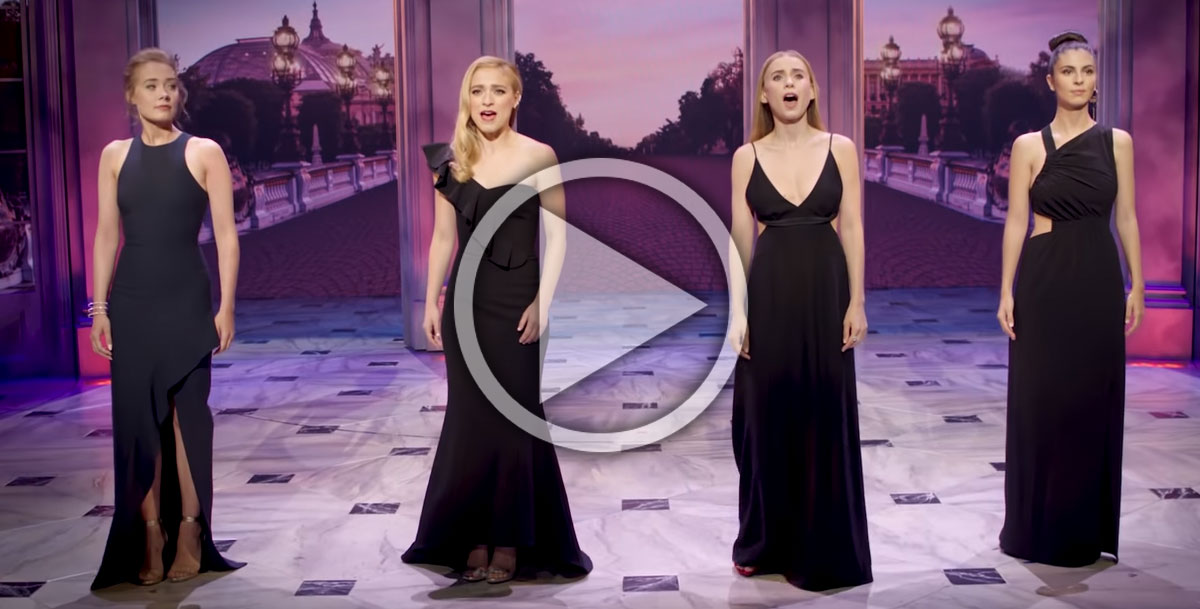 Four spectacular women celebrate the beginning of Anastasia's journey around the world. Enjoy this medley featuring Judith Caspari (Germany), Christy Altomare (Broadway), Lila Coogan (North American Tour) and Jana Gómez (Spain)
Rijk: 'People may think that Anastasia is a sweet musical with princesses and princes. It is not. For American audiences, especially women, the movie stood for female empowerment. These so-called Fanastasia's now come to see the musical with their daughters. The musical is much more than a boy meets girl story. It is about a young woman finding her way in life. The historical background of the murdered Romanov family is added value.'
Anastasia is a perfect example of the Management Board's vision on the rollout of content through different markets. Much relies on our production teams. It is remarkable how steady these teams are and how long most colleagues work for Stage Entertainment. Rijk Brouwer: 'Colleagues and I are very close to the production process and in daily contact with the creatives. Productions are the heart of our company and it feels good to be close to the heartbeat. It is quite exciting to see the interest from third parties to bring Anastasia to countries like Mexico, Japan, Australia. It means new challenges, extensive planning, budgets, license deals.' Rijk: 'Roles have changed. Anastasia has made Stage Entertainment an international licensor approached by third parties. We are currently working on our bibles for props and costumes. Before the end of the year I will end my career at Stage Entertainment and hopefully enjoy life in retirement. I will, however, continue to be involved with future productions of Anastasia on a freelance contract.'